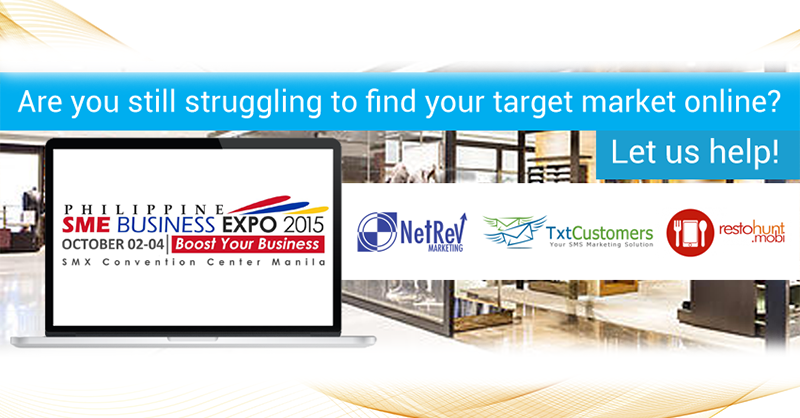 NetRev Marketing
NetRev Marketing is joining the Phil SME Expo 2015!
Hello everyone!
We are excited to announce that NetRev Marketing is joining the Philippine SME Expo 2015 this weekend! We are at booth SR42 and here's how our booth looks like:
If you can drop by at our booth, we have so many exciting promos and offers for you!
Schedule a FREE CONSULTATION
Digital Marketing for Christmas Campaigns
Introductory price for TxtCustomers
20% discount for Digital Marketing Consultation and Implementation
Feel free to contact us at 0917-8464318 for inquiries.
See you at the SMX Convention Center on Oct. 2nd – 4th! On Friday, we start at 11am while on Sat – Sun, we start at 10am. We will be there until 8pm!
If you are on this page because you have received our flyer at the expo and want to avail any of our services, just contact us and mention Phil SME 2015 so we can extend our promo offers until October 30th. You may need to take a photo of the flyer and email it at info@netrev.marketing to avail.